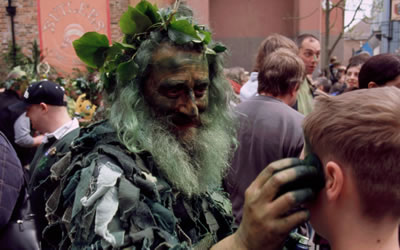 The annual 2022 Hastings Traditional Jack in the Green takes place in the historic seaside town of Hastings this coming weekend. There are events from Friday, April 29 through to Monday, May 2 which are expected to attract thousands of people from all over the UK and beyond to the town.
The weekend kicks off with a live music and song session at The Stag. Simply enjoy the music with a drink or join in the fun.
On Saturday Mad Jack's Morris and Hannah's Cat will lead the dancing at Winkle Island near the Stade and along with sides from around the country then venture into the Old Town and along seafront for further dancing.
Live music on Saturday will be performed by local 5-piece female harmony group Rattlebag at The Stag from 2:00 PM 3:30 PM, and Pigeon Swing with caller Baz Parkes will play from 7:30 PM 11:00 PM at St Mary in the Castle.
Sunday brings dancing at dawn the The West Hill Cafe, more dancing around the Old Town, an afternoon concert with The Copper Family from 4:00 PM 5:00 PM at St Clements Church and lots more music from Section 5 and Sambalanco drum groups (Butlers Gap 4:30 PM 5:30 PM), The Big Squeeze (The Prince Albert 7:30 PM 10:30 PM ) and Garry Blakeley (St Clements Church 7:30 PM 11:30 PM map).
Bank Holiday Monday hosts the main events with a the colourful procession through the streets of Hastings Old Town filled with unique characters, dancers, drummers, giants and more.
The Jack is released to the waiting crowd at The Fishermen's Museum at 10:15 AM to 10:20 AM and the leads the procession through Hastings Old Town to an afternoon of live entertainment overlooking Hastings Old Town on The West Hill and the big finale – the slaying of the Jack at 4:00 PM to 4:30 PM.
When
Saturday 30th April – Monday 2nd May 2022
Where
Various locations in and around Hastings Old Town