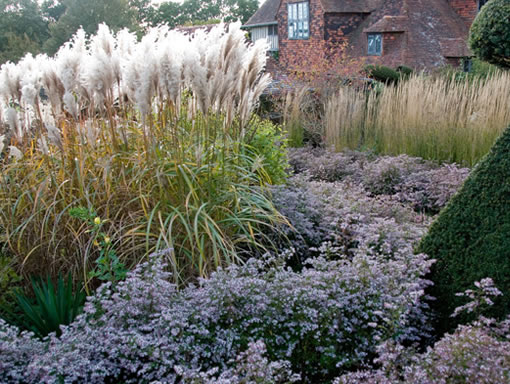 Despite appearances Great Dixter is actually three houses. A mid-15th century house, an early 16th century house transported here in 1910 from Benenden Kent and a third combining the two completed in 1912 and designed by Sir Edwin Lutyens.
Christopher Lloyd, the gardener and writer was based here for over forty years and the house and gardens became the inspiration for many of his books and articles. He wrote of the design and structure of the garden.
"Most of the garden design was by Lutyens; it always seems fluid, never stodgy. Thus, yew hedges are sometimes curved, making a change from straight lines. He often used tiles in a decorative (though functional) manner. Thus, a chicken house with rotten walls, was turned into an open sided loggia, supported by laminated tile pillars. In so far as possible, Lutyens incorporated farm buildings into his design, turning them to other uses. Four brick cattle drinking tanks were retained; we have now filled these in and planted them.
"The paving is of York sandstone. This had comprised London's pavements, but when ripped up to be replaced by tarmac, the stone became available for garden use. Lichens grow on it, making their own patterns, particularly noticeable at their 'flowering', in April. But the stone is slippery when wet."
The gardens are now huge draw for gardening enthusiasts and horticulturists worldwide. Great Dixter also serves as a centre for education.
When
Please check opening times on the Great Dixter website as the House and Gardens are closed from late October to early Spring. The Great Dixter Nurseries are open all year round.
Where
Great Dixter
Northiam
Rye
East Sussex
TN31 6PH