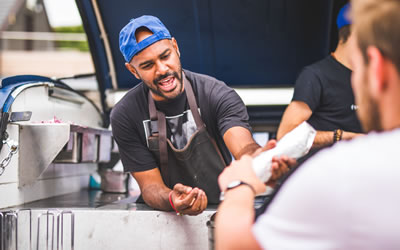 The Sussex Street Food Festival will take place on The Stade in Hastings, East Sussex with a mouth watering array of delicious food and refreshing drinks this Bank Holiday weekend. The festival will open to visitors from 12 noon until 10pm on Saturday, Sunday and Bank Holiday Monday.
Visit the Street Food Warehouse to register for free tickets. You'll be in with a chance of winning a free and a cocktail for four people.
Monte Forte – A pizza lovers dream – do you even fling dough?
Sweetheart Pantry – The best waffles you'll ever taste!
Chock Shop – Melt in the mouth Brownies.
Gourmet Griddle – The best burgers in town.
Zoe's Ghana Kitchen – Ghanan goodness.
CapHe Republic – Vietnamese food at it's finest.
The Jerk Joint – Famous for their flavours.
Southside Wrappers – They've got chicken all wrapped up.
Tipsy Texan – Banging BBQ.
Old Fire Station – the Caffeine fix.
Chu Chu Burmese – Beautiful Burmese bites.
Polentista – Buon Appetito!
Chopperwhoppers – Ice Cream by the sea.
Meat The Chef – Crispy Fried Chicken.
Tiny Thai – Tantaslising Thai.
Clark's Kitchen – Hunks of Halloumi heaven.
Choccy Churros – Delicious spanish doughnuts.
Manjula – Flavoursome vegan delights.
Punk Tacos – Mexican flavours with an attitude.
When
25th-27th May 2019. Noon to 10PM
Where
The Stade
Rock-A-Nore Road
Hastings
East Sussex
TN34 3DW